Get your Dream Decor in the City of Dreams with the Most Lucrative Deals Online
From modest commoners to millionaires with an extravagant lifestyle, Mumbai is a city that has everything to offer. Since 2009, we at Stonemart™ India are committed to offer everything that our Mumbaikars rightly deserve!
'The city of dreams', 'the entertainment capital of India', or 'the economic hub of India', there are numerous monikers by which the metropolitan city of Mumbai is entitled with. The city is extremely popular throughout the world and widely regarded as the melting pot of ethnicities, cultures and languages of people arriving from not only other parts of India, but other parts of the world.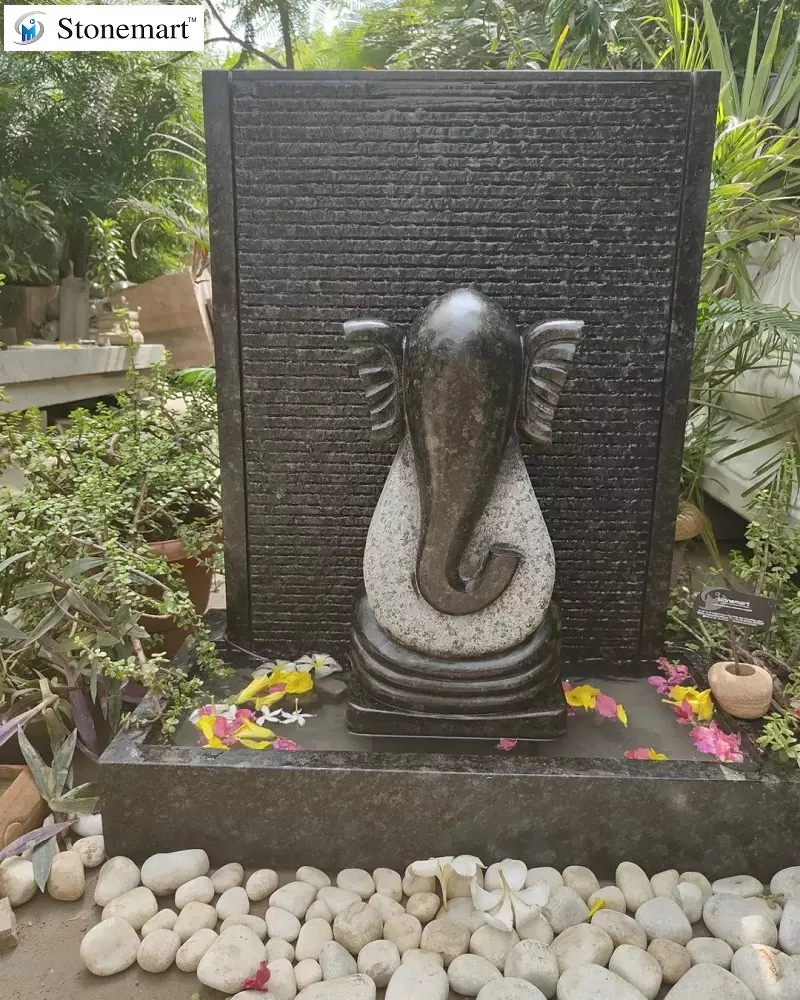 The city of Mumbai is presently functioning the role as a centre for commercial, fashion and entertainment industries in the South-Asian giant. A powerhouse of economy and the wealthiest city, it dwells the highest number of billionaires and millionaires in the country. The residents of the city are not only involved in intense economic activities but regarded as avid lovers of art and culture.
One can visit popular tourist destinations like Chhatrapati Shivaji Vaastu Sangrahalaya and Jahangir Art Gallery to witness the art and culture that once thrived in the region. People can realise their worth through the paintings and statues and other forms of sculptures present in the premises. When it comes to the contribution of natural stone structures in the history of this city, then also we can consider it to be truly blessed. The historic artwork and carvings can be observed in the iconic monuments of the city like the Gateway of India and Taj Mahal Hotel. Not to mention, the three UNESCO World Heritage Sites that are an integral part of this city- be it Chhatrapati Shivaji Maharaj Terminus (formerly known as VT Station), the Elephanta Caves or an ensemble of Victorian and Art Deco buildings spread across the city.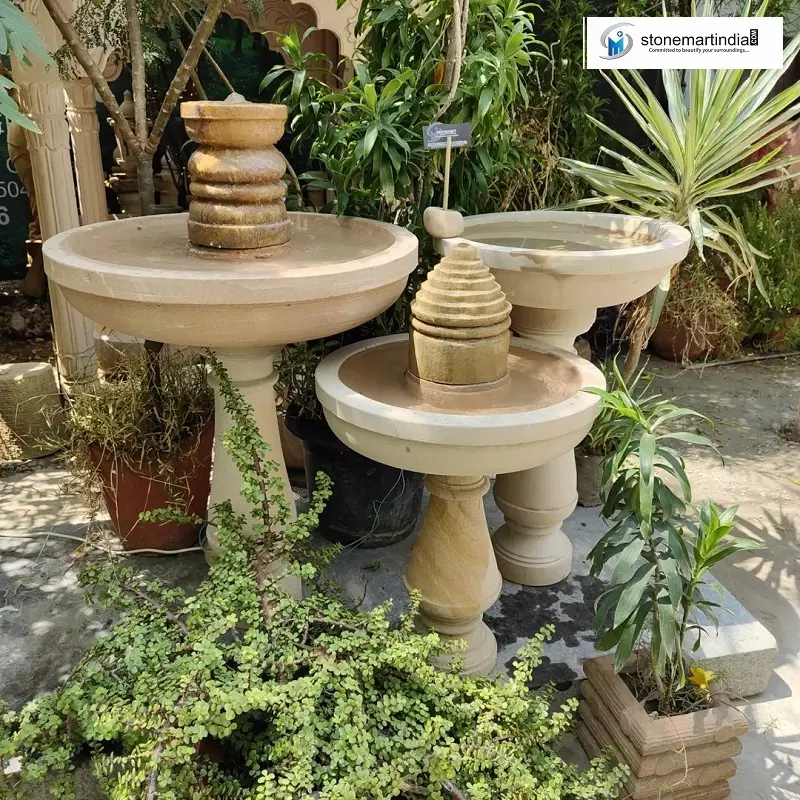 The historic heritage of the city is clearly reflected in the
stone decor
choices of the Mumbaikars. The
natural stone decor
items made from sandstone and marble is extremely popular and in high demand amongst the residents of the city. We at
Stonemart™
India can feel proud of the fact that we have constantly fulfilled the stone decor aspirations of the great people of this great city for the last 13 years. Be it the needs related to
natural stone statues
, fountains and birdbaths,
garden decor
accessories, or walling stones and panels in exterior and interior
home decor
.
What Mumbaikars can Expect from a Premium Range of Decor Offered Only at Stonemart™ India?
While exploring the premium class of products on our site, you would witness that there is indeed no other
online natural stone decor
site anywhere else. We offer a widespread collection of exclusive decor products. We promote the unique kind of decor items that we offer to our existing and potential clientele within the financial capital of India. Some of the best range of classic and elite products that one can explore with us right here are -
Buddha Stone Statues: The natural stone statues of Buddha online are extremely demanding amongst Mumbaikars. Apart from fulfilling their decor demands, our statues are wholeheartedly used in various meditative centres, restaurants, hotels, and spas filled with international and domestic tourists. One can order our products in various weights, heights, and sizes. Our natural stone Buddha statues and marble Buddha statues online are delivered to all parts of Mumbai in the form of Sarnath Buddha, life-cycle Buddha, Bamiyan Buddhas, dhyana mudra statue, abhaya mudra statue, anjali mudra Buddha, bhumisparsha mudra statue, dharmachakra mudra statue, varada mudra statue, vitarka mudra statue, etc. to fulfil your spiritual, decor, meditative, and Vaastu needs.
The standard heights and sizes would easily range from
5 feet Buddha statue online, 4 feet Buddha statue online, 3 feet Buddha statue online, Buddha statue 2 feet,
as well as in 2.5 feet or 1 feet length. Even small Buddha statue online is accessible with lengths in centimetres. Do you have different sets of measurements in mind? Get it customised as per your requirements by informing our service representatives now.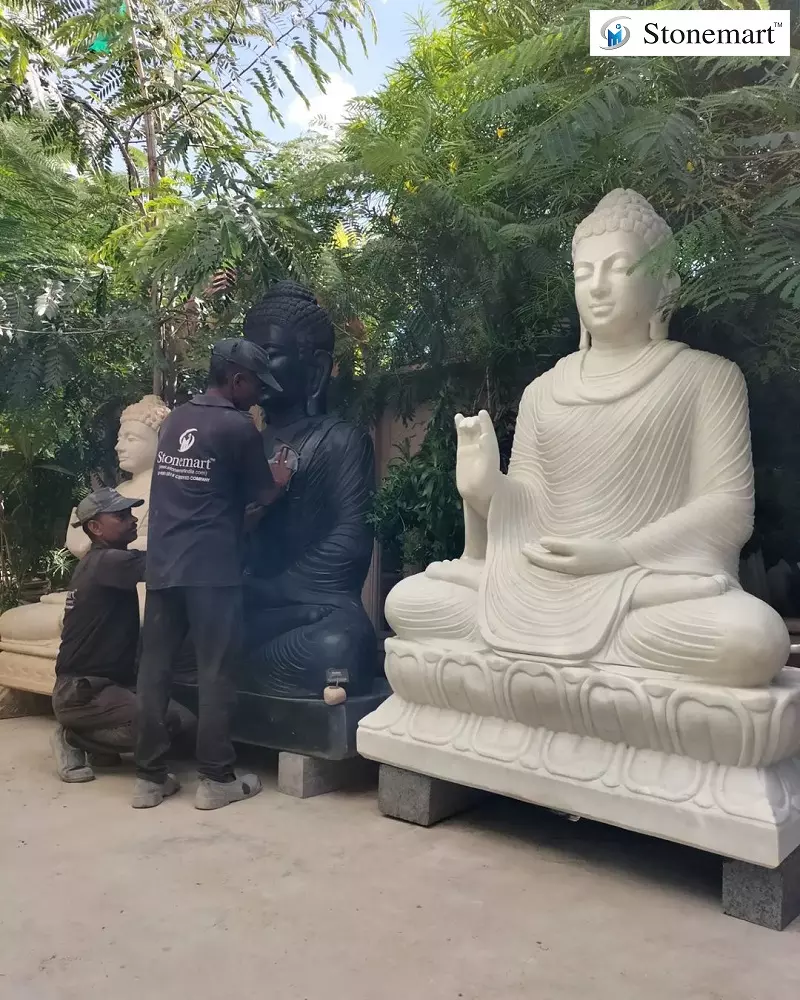 Stone Fountains: The weather of Mumbai feature both coastal humidity and seasonal heavy rainfall. The natural stone fountains available at Stonemart™ India will help you maintain the essential PH value within in the surroundings. The process of the installation of natural stone fountains in terraces, verandahs, rooms, and gardens could render a positive impact on both physical and cognitive level. An effective flow of water can always be made sure through a Ganesh statue with fountain, urli fountain, Buddha fountains, designer fountains, diya fountains, ball fountains, mural and panel fountains, modern art fountain, tabletop fountains, mushroom fountains, 2-tier level grandessa fountain, 3-tier level grandessa fountain, 4-tier level grandessa fountain, and even dual purpose fountains with birdbaths for a value added initiative to your online order.
Hindu God Stone Statues: The divine stone statues of Hindu Gods can relate to your spiritual restitution or for imparting positivity according to the Vaastu needs. Mumbai is a land where the most venerated figures of Hinduism are wholeheartedly worshipped. Whether we are talking about Ganapati Bappa/ Siddhi Vinayaka or Mumba Devi/ Mahalakshmi, we can find the online statues of gods and goddesses in almost each house.
We at Stonemart™ India bring you a prolific collection of
natural stone Hindu gods
, including
Ganesh statue, Lakshmi statue, Shiva statue, Nataraj statue, Saraswati statue, or Narayan statue
. Get your confirmation of order for 100% authentic products fulfilled at very cheap prices online now.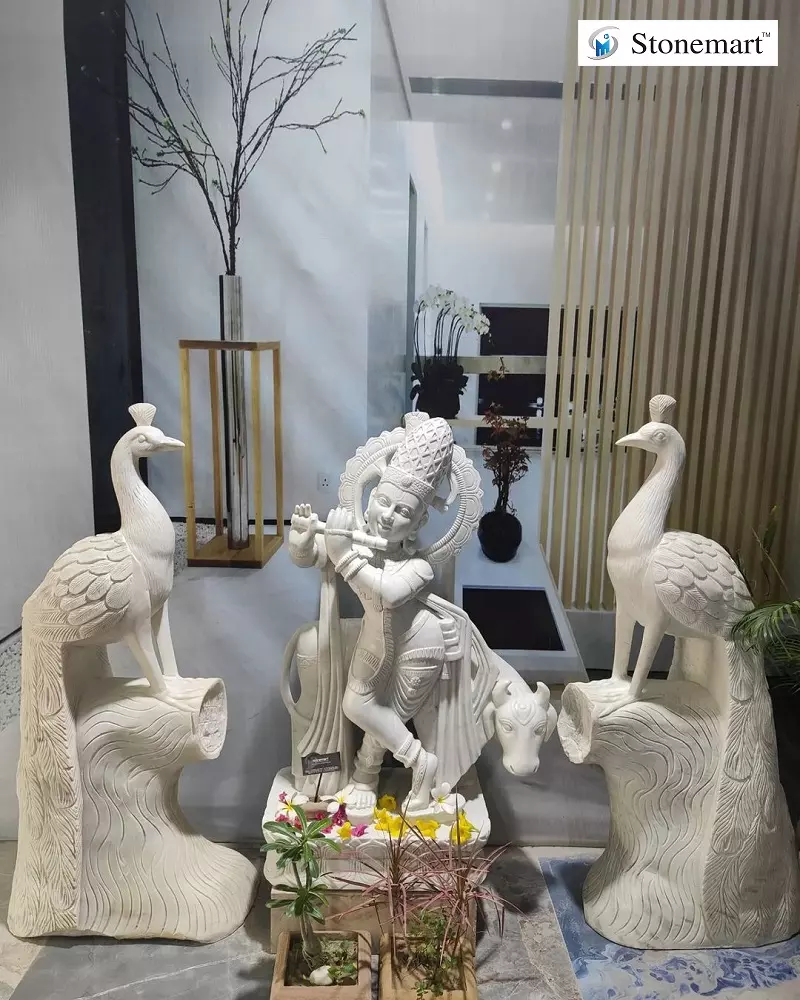 Stone Bird Baths: Mumbai is a city that is known for harmoniously living with the Nature. Whether it is the Sanjay Gandhi National Park in the heart of the city, or the birds migrating to and fro the wetlands of Gorai creek, the city has its own unique share of bird species. You can always fill your own garden and backyard with the chirping of these birds and can even invite them to the skyscrapers with balconies and multiple floors.
We can offer the world class range of
natural stone birdbaths Mumbai online
. These incorporate some of the best ranges in
rock birdbath, rainbow sandstone birdbath, beige carved birdbath, Kandla Grey sandstone birdbath, Mint sandstone birdbath, or bird feeder.
So, confirm your order now and ensure your garden, terrace, balcony, or backyard to be a paradise for delicate, tiny, feathered guests of the Nature.
Natural Stone Planters: Our modest yet lavishing decor items do come in the form of stone planters could bring Mumbaikars even closer to the Mother Nature. Our planters of stone online in Mumbai are accessible in different designs, shapes, and sizes along with both traditional and modern framework.
Natural Stone Urlis: Mumbaikars can find our designer stone urlis extremely popular amongst various parts of the city. Avail benefits from the premium deals online with urli fountains for home and garden, stone urli, rainbow sandstone urli, rock urli, birdbath urli, beige carved urli, mint sandstone urli, Kandla Grey sandstone urlis, etc. Decorate your interiors as well as porches and gardens with our urlis that will beautify the given space at the most reasonable kind of investment online.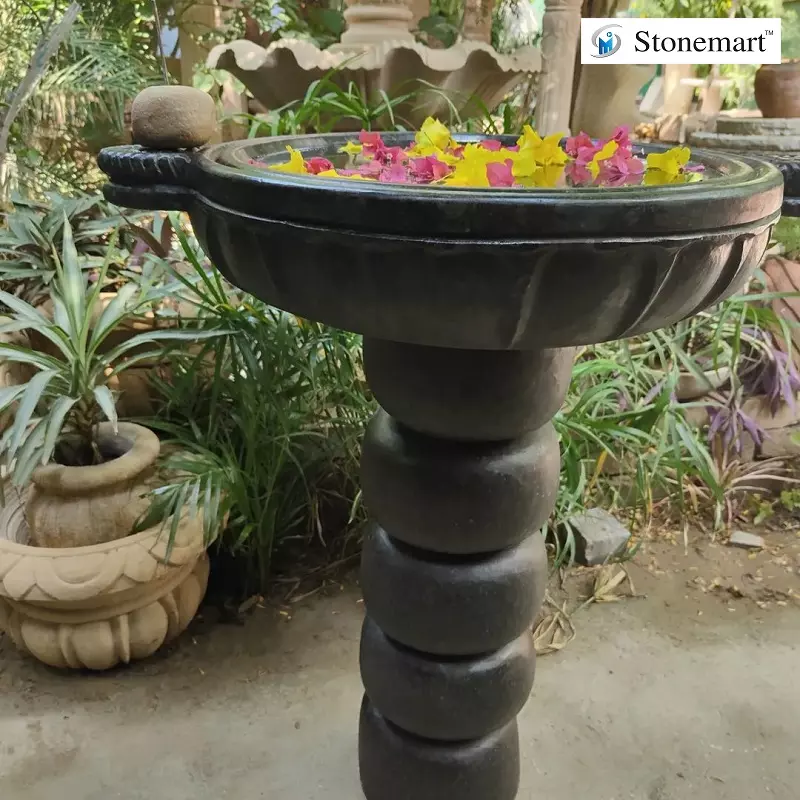 Bali Stone Sculptures: Giving orders for Bali sculptures online is certainly one of the good and smartest ways to get allured to a balanced routine of meditative fitness and health. All our stone sculptures are carved out of 100% authentic natural Balinese stones and are carved to life by our most skilled and gifted sculptors to make ultimate products performing the most iconic forms of yoga poses.
Pebble Landscaping: We offer paving pebbles to landscape the sidewalks and pavements with normal and colourful stone pebbles getting ordered from Stonemart™ India. Get access to our support representative and free consultation now and enjoy your perfect match for suiting both exterior and interior decor aspirations.
Water Landscaping Features: While accessing our elite and lavish clientele in Mumbai, we are committed to offer highly unique and innovative water landscaping decor ideas. Our installation of natural stone water landscaping features is relatively simple and even executable by a layman. The great news for Mumbaikars is that they can hand-pick water landscaping projects out of the featured varieties online or get them customised as per the requirements on a special request.
Stone Gazebos: Well, it is the time to get the feel of a Bollywood set in your garden or backyard. Yes, our premium range of natural stone gazebo can help you pick out of both vintage and modern designs to make the overall appearance of your landscape thriving to the eyes. It is the high time to feel the grandeur of paradise by installing your favourite design of gazebo and gift an exclusive, larger than life standards to your beloved ones only at Stonemart™ India!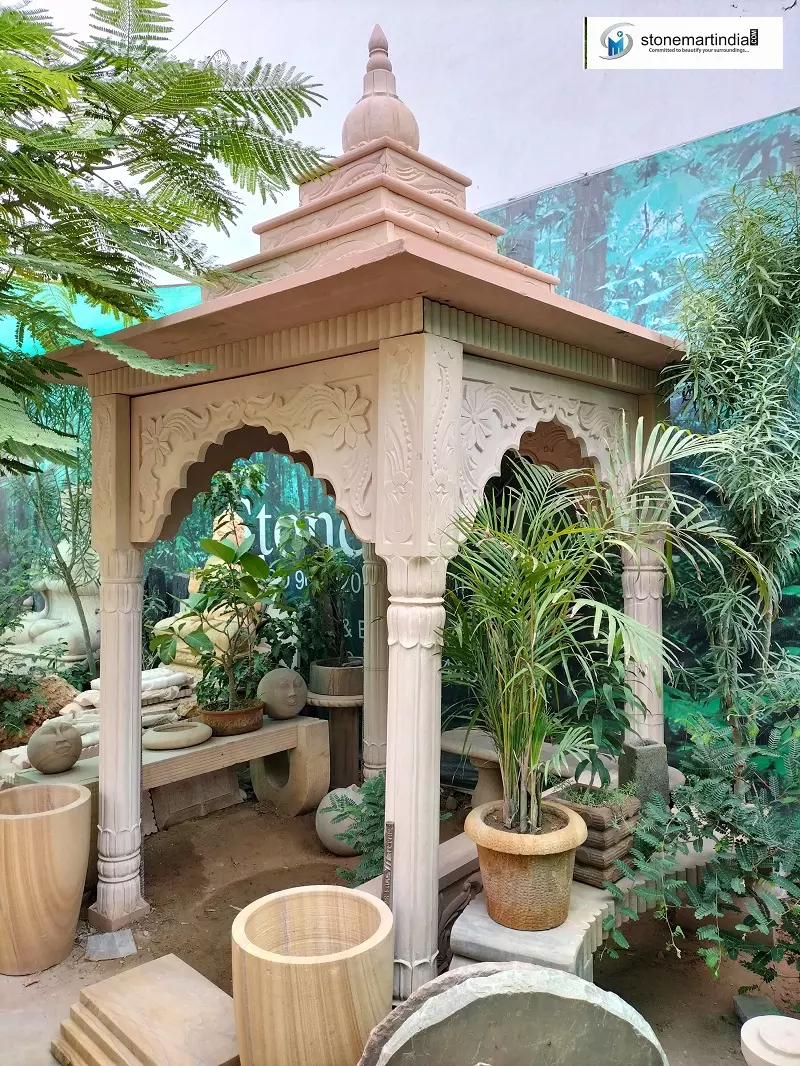 Wall Stones and Panels: While speaking in terms of our Mumbai Stone decor aspirations, our walls are indeed something that are considered to speak out for themselves. We encourage you to go for our wall stones and panels to make your exterior wall decor and interior wall decor a lustrous example of modern-day architecture. And yes, never overlook to cast your sight upon the decorative stone wall panels with fascinating murals to let your place appear more lavishing destination for decor with truly affordable form of investment.
Stone Signage: Mumbai is a place renowned as a melting pot of landmarks. How about adding the name of your property in that list? Well, it is truly possible with a stone signage brand provided by Stonemart™ India. Simply flabbergast any visitor making a visit to your premise with an impressive signage stone with the name of your property engraved over it. Explore an extraordinary collections of natural stone signage online and make your legacy carved to perfection.
We also recommend you get a glance of our remarkable collection of palisades, stone circles, stone lamps, pathways, stone benches, etc. and see why we are the no. 1
natural stone decor supplier Mumbai
.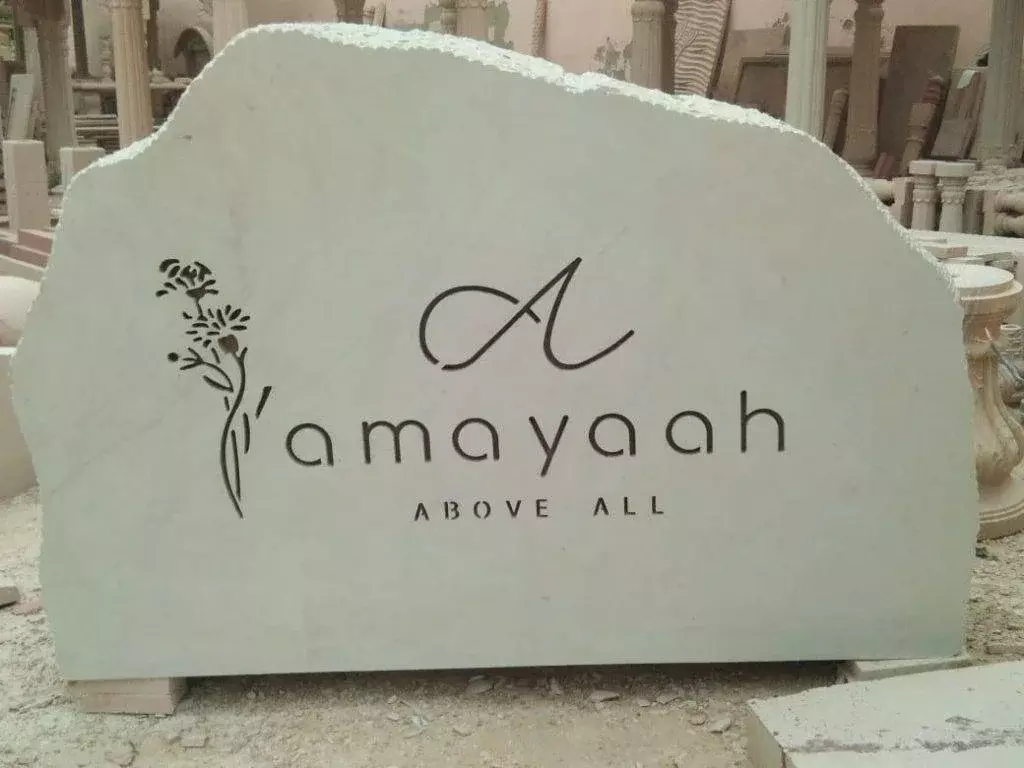 Why Our Natural Stone Decor Products and Each and Every Mumbaikar Deserve Each Other?
Since the inception of our manufacturing and services in 2009, we have created a goodwill to become the leading supplier of
natural stone decor products in Mumbai
year by year. The following are some of the major features that played their part as the cornerstones of our incredibly successful journey in the financial capital of India-
Products of International Standards: It is an undeniable fact that Stonemart™ India is a reputed name in the online decor market when it comes to 100% original, made in India, natural stone products. Each product that you access on our website online is sculptured at par with the global standards with naturally excavated sandstone and marble in India.
Cheap Deals Online: We know the fact that our natural stone decor products online completely deserve the placed price tag that any luxurious decor items deserve. Still, our preference remains to make our premium products easily accessible to every individual or household in Mumbai. We encourage our potential clients to check the quality of our works with magnified images in each tab and avail highly durable stone decor Mumbai to choose from.
Get it Customised: Our highly skilled and dedicated sculptors can make custom ready orders as per the requirements put forth by you. Let our representative know about the same online in advance.
100% Natural Products: We never endorse the culture of bringing cheap quality imports on the table. That is the reason why, you are never going to find the decor items made from plastic, wood, resin and ceramic in our showroom. Our natural stone products never allow impurities in the raw materials and components.
Supporting Less Privileged Artisans: All the orders confirmed and delivered to different parts of Mumbai are the means of livelihood to hundreds of most gifted sculptors working for us. We at Stonemart™ India are the driving force on a mission to safeguard the interests of these highly talented but less privileged artists and feel gladder if you join our cause by pressing that order button.
Trustworthy Logistics: Right from Churchgate to the outskirts of Virar, or Dadar, Kurla, Bandra or Chembur, our shipment services would cover all parts of Mumbai. All deliveries are made in proper bubble wrap with an external safety of robust wooden crate. It offers a bump-free ride to the destination without worrying about the quality of road or the speed in which the container is travelling.
Install Yourself: Once the order gets delivered, you can finish the process of installation by your own. Right from connecting the blocks of palisades to installation of submersible pump in the fountain, all tasks can be accomplished easily without any professional intervention.
At
Stonemart™ India
, we are committed to take the level of
natural stone decor Mumbai
aspirations to a whole new level. Just make a visit to the categories of the products displayed on our site and enlarge the images of the products from different angles to get awestruck by professional craftsmanship. Order now and make your quest for
original quality stone decor products in Mumbai
fulfilled at fair and transparent prices ever accessible online.