Natural Stone Decor to Perfectly Blend with the Goan Architectural Legacy
The rich architectural heritage of Goa can only be vindicated by the stone artwork featuring exceptional reputation. Join the family of thousands of happy and satisfied customers in Goa with the finest range of decor collection only at Stonemart™.
Goa is renowned to be one of India's top holiday destinations. Whether you are planning for a casual walk across enchanting and serene beaches, grab some cheap booze or a kayaking trip to the backwaters of Mandovi, Zuari or Sal, Goa has something for every paradise seeker. Titled as the "Pearl of the Orient" in India, the state is situated on the western coast of the nation along the coastal belt known as Konkan.
Most of the people are not aware of the fact that apart from its ethereal natural beauty and night studded sky, the Indian state is also known for its rich architectural heritage. The residents of the state are extremely fond of architecturally rich
natural stone statues
,
wall stones
and
paving stones
to bestow a posher appearance to their dwelling. When it comes to the architectural enhancement of the surroundings, the
original natural stone products online
are known to offer the most trustworthy solution instead of the decor items made from substandard materials full of impurities.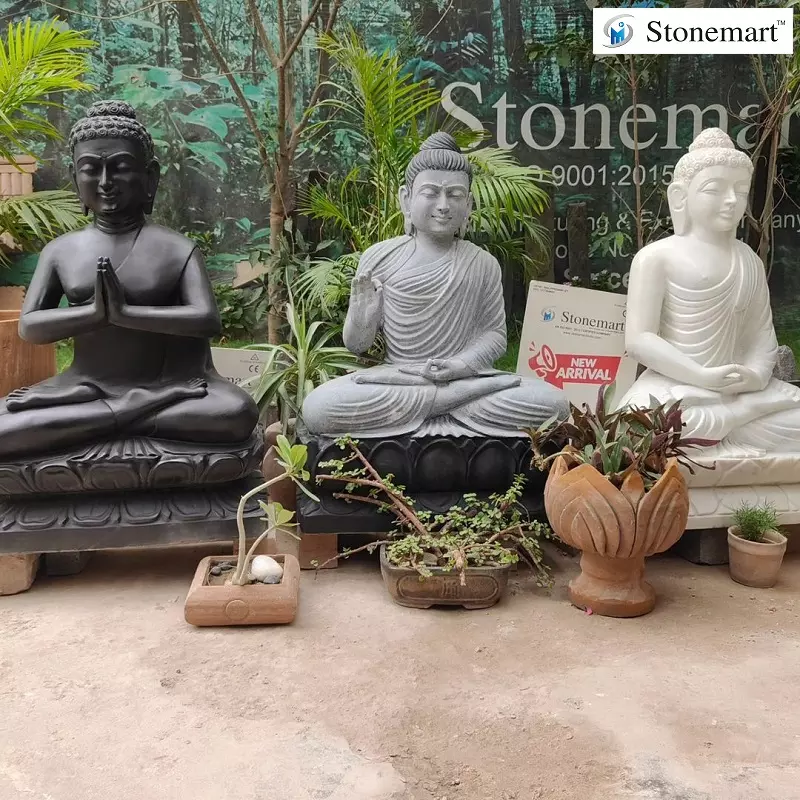 At Stonemart™, we have accomplished the company of a remarkable Goan clientele because we have consistently delivered the best in business products for the last 13 years. Our extensive range of natural stone products are made from naturally excavated blocks of sandstone and marble from 100% genuinely licensed mines in India. As the product is carved out of natural, waterproof and highly weather resistant stone surface, it can acclimate to both hot and humid as well as tropical monsoon climate witnessed in Goa. Our high range quality products do make sure that whatever you order from our site, it matches your benchmark of trust and longevity, without deteriorating for multiple years to come.

What Goans can Expect from an Exclusive Range of Products Offered at Stonemart™?
When you look at the range of products offered at our site, then you would find that there is no other
natural stone decor
site anywhere else online offering such a widespread range of exclusive products. We encourage you to look at the type of products that we offer to our current and potential clientele in the state. Some of the finest range of products that you can explore with us here are -

Buddha Stone Statues:
The natural
stone statues of Buddha online
are highly popular amongst Goans. Apart from achieving their decor aspirations, the statues are widely used in meditative centres and spas filled with domestic and foreign tourists. Accessible in various heights and sizes, our natural stone
Buddha products online
are delivered in Goa in the form of
Buddha life-cycle statues, Sarnath Buddha, Bamiyan Buddhas, bhumisparsha mudra statue, dhyana mudra statue, abhaya mudra statue, dharmachakra mudra statue, vitarka mudra statue, varada mudra statue,
etc. to achieve your decor, meditative, and
Vaastu
needs.
The most common heights and sizes would range from
5 feet high Buddha statue online, 4 feet high Buddha statue online, 3 feet high Buddha statue online, Buddha statue 2 feet high,
and even in 1 foot or 1.5 feet height. Are you having another set of priorities when it comes to
Buddha statue
shape and size? Get your order personally customised as per the given set of requirements now.

Stone Fountains:
In a naturally humid and coastal atmosphere of Goa, it is essential to maintain the room temperature and PH value of the moisture in the air. The installation of natural stone fountains in rooms, terraces, verandahs and gardens could have a positive impact on both physical and mental level. An effective channelisation of water can always be ensured through an
urli fountain, Ganesh statue with fountain, Buddha fountains, diya fountains, designer fountains, ball fountains, panel fountains,
modern art fountain,
mushroom fountains,
tabletop fountains,
2-tier grandessa fountain, 3-tier grandessa fountain, 4-tier grandessa fountain,
and even dual use
fountains with birdbaths
to add more value to your online order.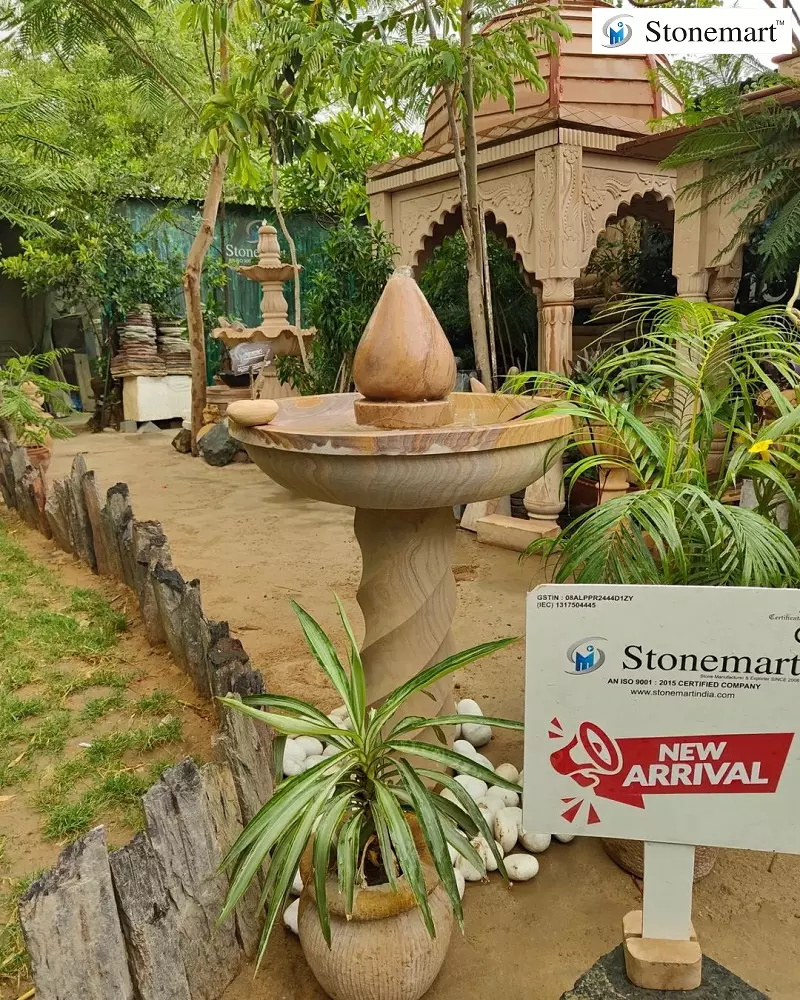 Hindu God Stone Statues:
The statues of
Hindu Gods
could be associated with your spiritual atonement or imparting positivity as per the
Vaastu
needs. Witness a profound collection of
Hindu gods in natural stone
, including
Shiva statue, Nataraj statue, Ganesh statue, Narayan statue, Lakshmi statue, or Saraswati statue
. Get your order for 100% original products be confirmed at the cheapest prices online.

Stone Bird Baths:
Goa is renowned for having its own share of species, including some of the widely popular birds. Inviting them to your backyard in Goa can be your prerogative with an exceptional class of
natural stone birdbaths online
. These include some of the finest ranges in
rock birdbath, beige carved birdbath, rainbow sandstone birdbath, Mint sandstone birdbath, Kandla Grey sandstone birdbath,
and
bird feeder
. Order now to make your garden, balcony, terrace, or backyard a paradise for the tiny, feathered guests of Nature.

Natural Stone Planters:
Our simple yet lavishing products in the form of planters could bring you even closer to the Nature in this beautiful Indian tourist destination. Our planters are accessible in different shapes and sizes along with both conventional and modern designs.

Natural Stone Urlis:
You can find our
designer stone urlis
highly famous amongst the
decor orders online in Goa
that we generally receive at Stonemart™. Get benefited by the finest deals online with
urli fountain for home and garden, rock urli, stone urli, rainbow sandstone urli, birdbath urli, mint sandstone urli, beige carved urli, Kandla Grey sandstone urli,
etc.

Bali Stone Sculptures:
Ordering
Bali sculptures online
is one of the best and smartest ways to get attracted to a perfect regimen of meditative health and fitness. The stone sculptures carved out of 100% genuine natural Balinese stones are transformed by our gifted sculptors into the finished products featuring the most iconic yoga poses.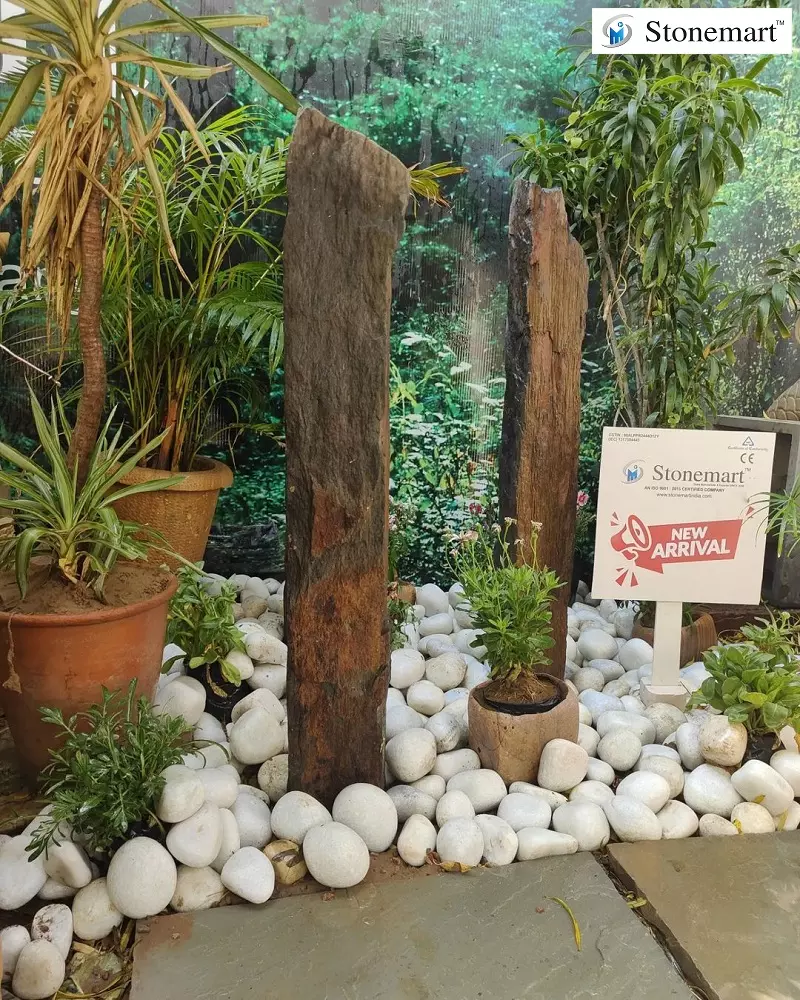 Pebble Landscaping:
Landscaping of the pavements and sidewalks with standard and colourful stone pebbles is ordered from Stonemart™ to perfectly match the natural landscapes of Goa. Get in touch with our representative now and find your perfect match for both interior and
exterior decor
needs.

Water Landscaping Features:
We offer our clients extremely unique and innovative decor ideas when it comes to the installation of natural water landscaping features. Our water landscaping projects can be selected out of the featured models online as well as to be customised on a special request.

Stone Gazebos:
The right kind of natural stone gazebo you choose eventually happen to decide what kind of vintage or royal look your lawn or backyard is about to achieve. Feel the grandeur of paradise with the installation of your favourite and exclusive, larger than life gazebo model only at Stonemart™!

Wall Stones and Panels:
When it comes to our decor aspirations, our walls are something that are believed to speak for themselves. Make your exterior and
interior wall decor
a shining example of modern architecture. Don't forget to cast your eyes upon the stone wall panels with enchanting murals to make your place the most lavishing decor destination with a very relevant form of investment.

Stone Signage:
Whether we are speaking in terms of your house, office, or any other centre for commercial or non-commercial activity in Goa, no one can deny the fact that it rightly deserves a branded landmark of its own. Why not flabbergast each visitor with a perfect
signage stone
in front of your premises? Glance through the most unique collection of
natural stone signage online
and justify your legacy with perfect form of branding.
Also, do not forget to have a peek through an exquisite collection of stone circles, pathways, palisades, stone lamps, stone benches, etc. and make your Goan shopping spree a grand success.

The Reasons that Make Our Natural Stone Decor Products a Hot Favourite to Every Goan?
Some of the distinctive features of our services due to which our brand is a premier choice for the resident of Goa for the last 13 years are as follows -
Products Made on International Standards: Stonemart™ is a prestigious name in the online market when it comes to 100% genuine, made in India, natural stone decor products. Every product that you reach on our site online is made at par with the international standards with 100% naturally excavated marble and sandstone in India.
Get it Customised: Our gifted sculptors can readily fulfil all your requests by getting your order customised as per the requirements put forth by you. Get in touch with our representative now to know more.
100% Natural Products: Are you fed up with inferior quality decor products made from plastic, resin, wood, and ceramic that are full of impurities? Order natural stone decor items online from our site that are a mark of purity, durability, and reliability only at Stonemart™.
Install Yourself: We bring forth the natural store decor products that can even be installed by a layman without many efforts. Our decor items come with a simple installation process that is not dependent upon any hard to master technique or science. Get the ordered product installed readily by yourself.
Supporting Less Privileged but Most Gifted Artisans: Our orders are prepared by the most gifted sculptors from the Indian state of Odisha. Since 2009, Stonemart™ has functioned with a mission to support these less privileged artisans to earn their livelihood and keep their head high with dignity. Your each and every order from any part of Goa would help your brothers and sisters from Odisha to pursue a good life which they rightly deserve.
Logistics that You can Count Upon: The credibility of our shipment services to any part of Goa is highly acclaimed and appreciated by our existing clientele in different parts of the state, including Panaji, Margao, Ponda, Vasco da Gama, etc. Our deliveries come under a quality bubble wrap with a robust wooden crate to provide best of the best external protection from the manufacturing site to the destination at the given address.
Goa is a state that is fond of architectural achievements since the time of Portuguese. At Stonemart™, we fully understand the artistic natural stone decor aspirations of our Goan clients to perfection. Confirm your order and get your
natural stone decor Goa
ambitions realised by the most trusted natural stone decor brand online now.