Buddha stone statues are not only mesmerizing but also the epicenter of a formidable energy. Buddha statues are available in different mudras and each mudra has its own significance. You can shop for smiling Buddha, blessing Buddha, fearless Buddha, teaching Buddha, meditating Buddha, Buddha head or the Buddha upholding the wheel of dharma. There are certain aspects that you are required to keep in mind while deciding the placement of these statues as per the Vaastu or Feng-shui to have the maximum positive impact.
Natural stone Buddha statues are extremely durable and cannot be substituted by cheap décor imports. They never break that easily because they are naturally heavy and not hollow and even after ages you will never find even slight change in the texture and expressions of the statue. That is why, the presence and blessings of the Buddha would not be confined to just one generation, but bestows the Buddhist way of living to your children, grand children and even great grand children. A way of living that is an eternal and perpetual symbol of compassion, love, peace and wisdom.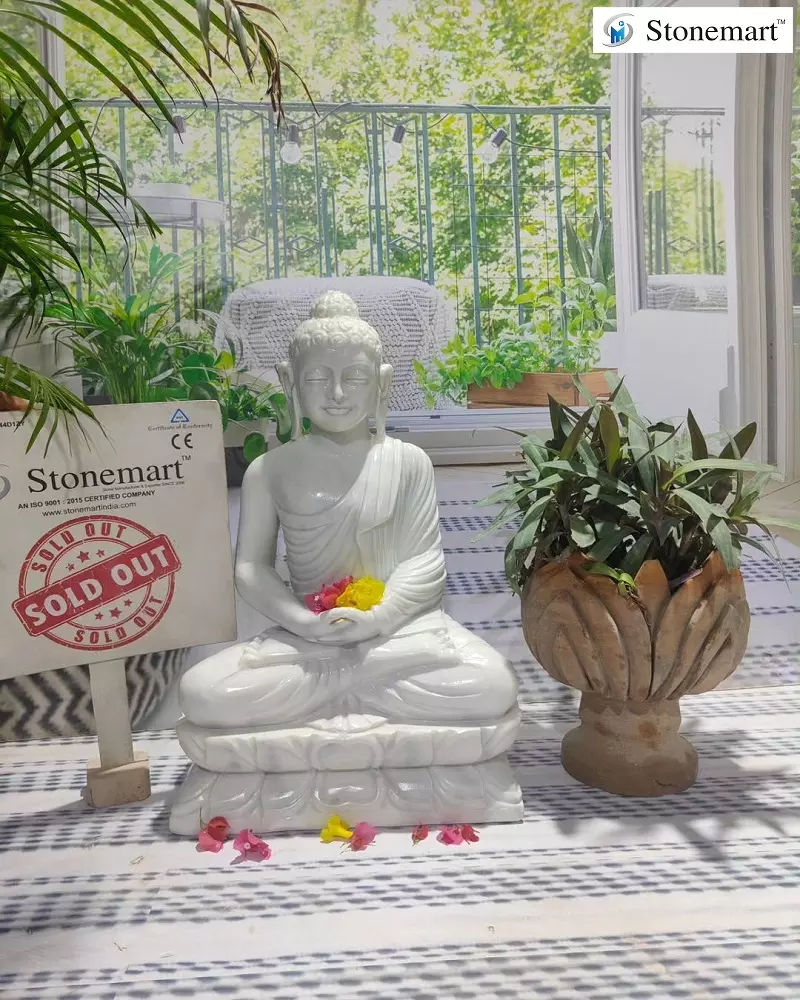 Things that You Should Consider While Buying a Buddha Statue for Home
The reason for the presence of the Buddha in your vicinity can be numerous. It can be related to your décor aesthetics, spirituality and even Vastu or Feng-shui goals to balance the energy of the vicinity. When you are purchasing a Buddha stone statue for home, there are certain aspects that you are required to keep in mind to make your online shopping deal far better than anticipation.
The Type of Buddha(s) You Need:
First and foremost, what is the reason for you to order the Buddha. Are you planning to order Buddha for meditation or dhyana purposes? Then try to order dhyana mudra Buddha sculpture and place it in the yoga or meditation room, or whichever area where you practice meditation. If you are buying Buddha ji in a property to mark a new beginning, then we recommend ordering Bhumisparsha mudra Buddha statue and place it at the center of the compound facing east to balance the elements of the Nature.
If you wish to conquer you inner demons, fear, anxieties and lack of confidence, then would be best to go with the abhay mudra Buddha statue and place it preferably at the entrance. If you are looking for a teaching Buddha statue that can encourage the perpetual flow of information and wisdom at school, library, university, debate halls, auditoriums, etc. then we recommend you to buy vitarka mudra Buddha statue. Similarly, for students and their respective study rooms a Buddha bust (or Buddha head) can turn out to be a strong source of positive energy, knowledge and inspiration. If you are simply order a Buddha sculpture for home and garden décor aesthetics with a fusion of water element, then nothing can beat a big natural stone Buddha fountain.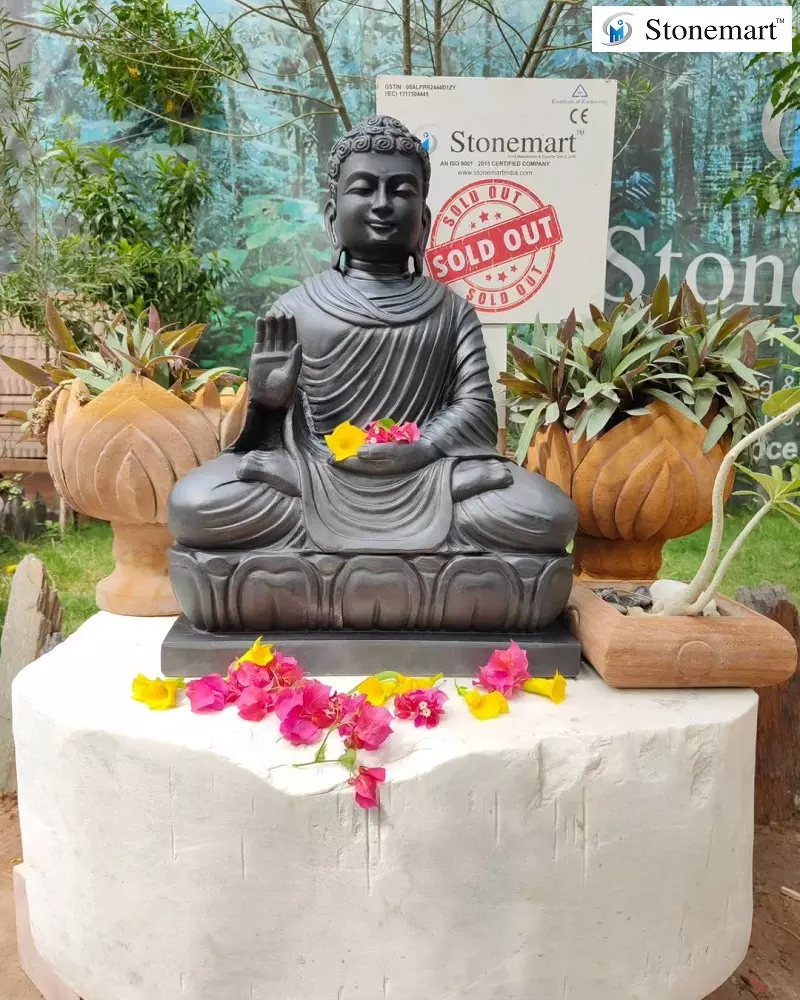 Color Options:
Most of the people remain skeptical about stone Buddha statues with the misconception that they come with limited color options. But that is not exactly true! You can order out of a remarkable range of natural marbles, sandstone and granite, including white marble Buddha, black marble Buddha, grey marble Buddha, dual color Buddha, pink sandstone Buddha, white sandstone Buddha, teak sandstone Buddha, black granite Buddha to name a few. You can easily choose one out of the color preferences, the interior design theme, color contrast with the surroundings, etc.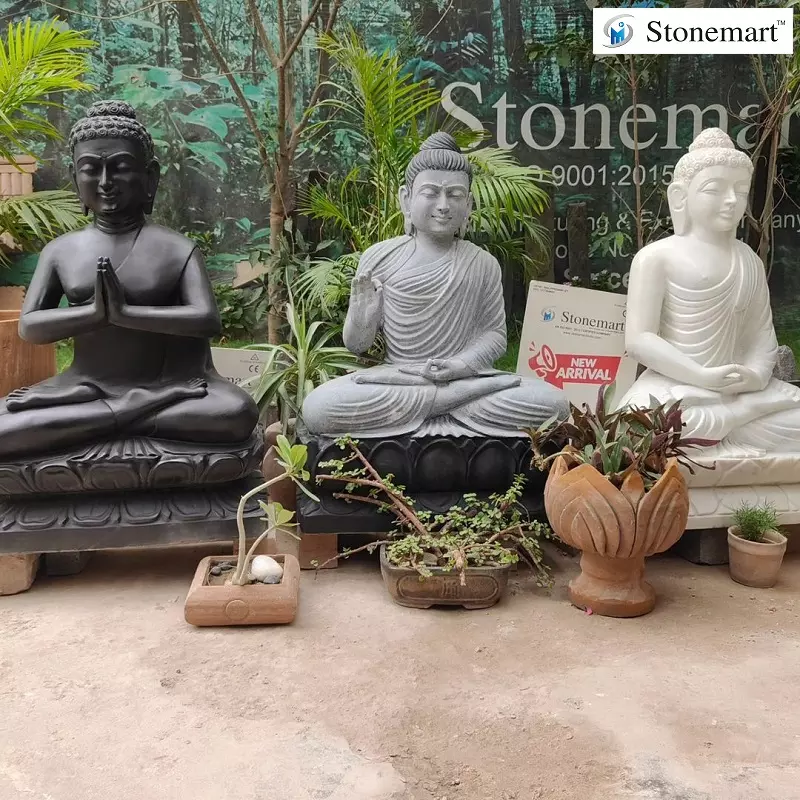 Buddha Statue Size:
While ordering Buddha stone statue online, size is one of the critical parameters that are required to be taken seriously. Everyone wishes to buy a large Buddha sculpture for their entrance or hallway, but the weight is regarded as the main restriction. With increase in every inch of length, width or height, the weight of the Buddha idol simultaneously increases.
The weight of a huge 5 feet Buddha statue could go over 1 ton. A 4 feet Buddha statue and 3 feet Buddha statue can weigh around 500 kg and 180 kg respectively. If you wish to go for a comparatively smaller size like 2 feet Buddha statue then it can weigh around 50-60 kg. So, place the order according to the availability of space, area volume and the number of people or equipment required to carry out the placement.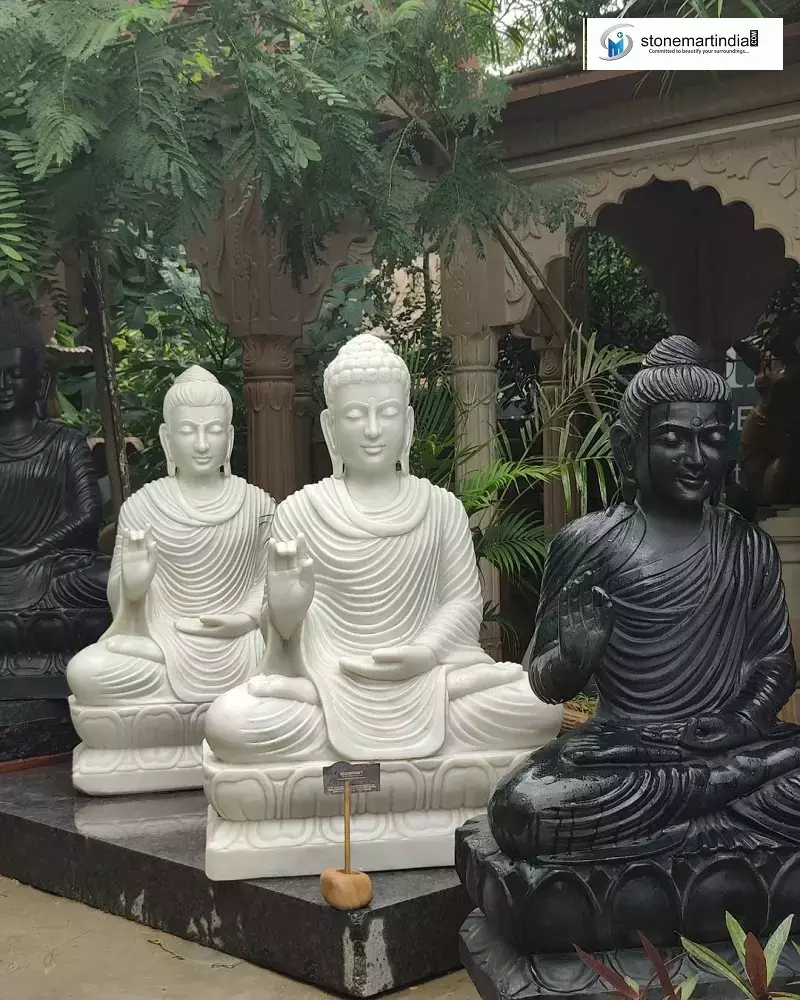 Buddha Statue Placement:
Never place the Buddha directly on the ground, as it is deemed as disrespectful to the lord. Order Buddha stone statue that comes with an inbuilt sitting throne, and if you wish to make the foundation solid enough, then order a natural stone pedestal or console table to elevate the platform and view of the lord across the surroundings. Whether you are buying Buddha for balcony, Buddha for living room, Buddha for garden, Buddha for resort, Buddha for hospital or any other place. Always keep in mind the space constraints, because Buddha statue would always be the center of attention wherever you keep it. So, always keep the surroundings clean and spacious enough.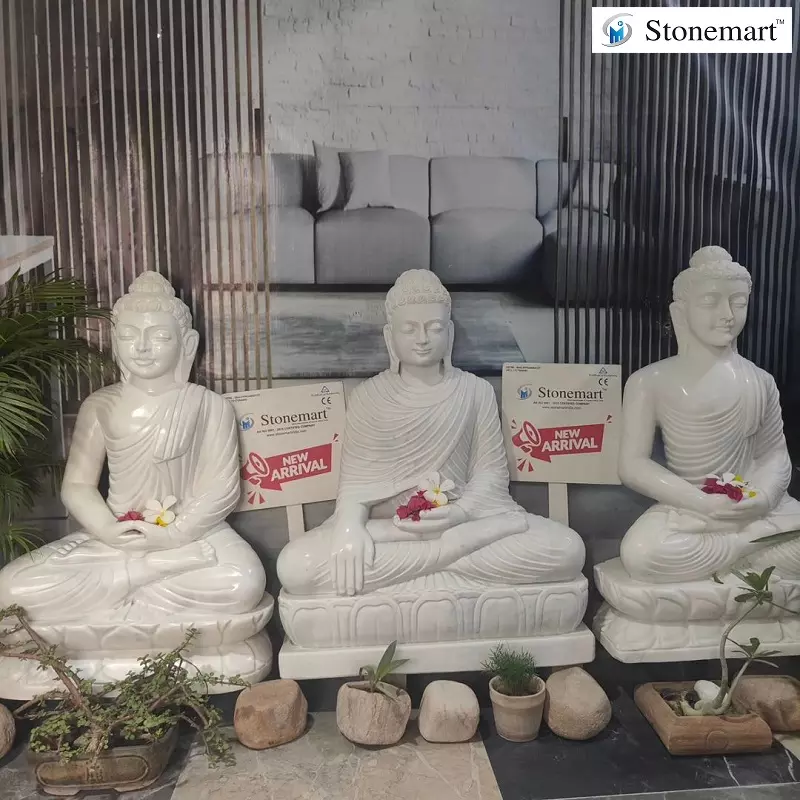 Additionally, it is advisable to only get the services of a Buddha statue manufacturer and exporter that offers its own shipment services and provide the delivery to the doorstep. All the necessary arrangements related to the point of unloading should be taken care in advance, so that once the shipment arrives at your prescribed address, it should not face unnecessary hassles.